Bonjour,
j'ai découvert Valentina avec grande surprise ! et j'en serais nettement plus contente si je comprend toute ça fonctionnalité. J'utilise la version Valentina 0.6.0.0a sur mac, c'est le seul que j'ai réussi à ouvrir sur mon ordinateur.
I discovered Valentina with great surprise! And I would be much happier if I understood all this functionality. I use the version Valentina 0.6.0.0a on mac, it is the only one that I managed to open on my computer.
Grâce à des tutos que j'ai trouvé qui sont sur d'autre version de Valentina, j'ai compris comment me servir des points dans les grandes lignes.
Thanks to tutorials that I found that are on another version of Valentina, I figured out how to use points in outline.
Mon problème commence ici: Lorsque je souhaite confirmer les lignes du patrons afin d'y rajouter les valeur de couture:
je click dans l'onglet "pièce de patron"
puis sur le bouton "piece path tool"
Voici ci dessous dans ma capture d'écran ce que ça me dis :
My problem starts here: When I want to confirm the lines of the patterns in order to add the sewing values:
- I click in the tab "patron part" - then the button "piece path tool"
Here is below in my screenshot what it tells me
quelle est la solution? What is the solution?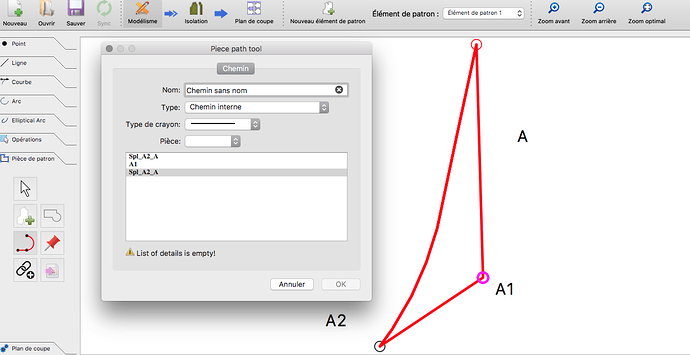 J'ai essayé en cliquant sur le bouton I tried by clicking on the button
"outil marge de couture" "seam allowance tool"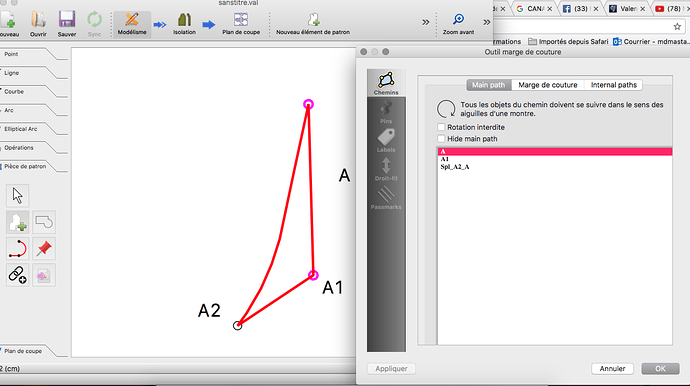 Comme vous pouvez voir cela ne marche pas
As you can see it does not work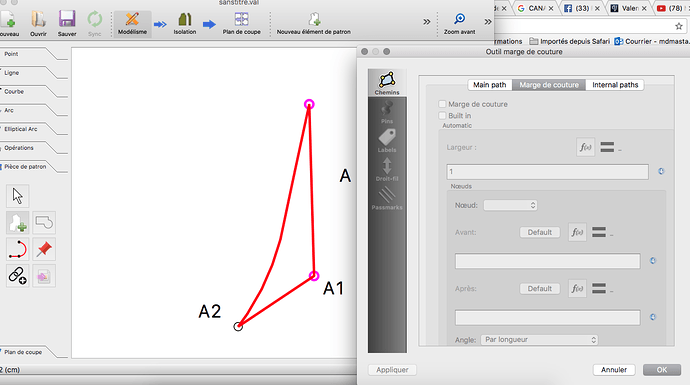 Pensez vous m'aider déjà pour cette étape? Peut être y a t-il un manuel pour cette version Valentina 0.6.0.0a
S'il vous plaît aidez moi, Merci infiniment
Think you help me already for this step? Can there be a manual for this version Valentina 0.6.0.0a
Please help me, Thank you so much
Andréa