I'm on to the next issue to resolve… implementing a built in seam allowance option. Yes, currently there's a "built in" checkbox, but it really doesn't do anything more than hiding the seam allowance (cut line) and disabling all the other SA options.
While on the surface it seams (pun intended) that all that's needed is to be able to use a negative seam allowance width - if it were only that easy. What really needs to happen is if the seam allowance is built in, a new main path needs to be created on the inside of the main path at the given node SA widths - WITHOUT the angle types at the corners. Then with the new main (which will now be the seam line) path it's run through the routines as usual to create a new cutline with the appropriate corner types. Again easier said than done. I have decoded the corner routines and have been able to find the corner points inside the main path. Now I have to figure out creating the curves inside the main path, and connecting it all up for a new main path.

Another issue I have to resolve is being able to add "makeup" to the seam allowance between designated nodes. For example… it's common in many systems that the draft includes the seam allowance - my experience has been the included SA is 1/4", but requires additional width added at certain places. In the pic below an additional 1/4" is added as makeup from A to 17 to 20. In other words we need to be able to set the SA to 1/4" and add an additional 1/4" makeup from A to 20 so that when the pattern is printed the seam line is still printed at 1/4". Make sense? This was a issue I ran into making the vest patterns for Annie… I worked around it by adding a default 1/4" SA and 1/2 Sa from A to 20… then disregarded the printed seamline knowing there was a 1/2" SA all around.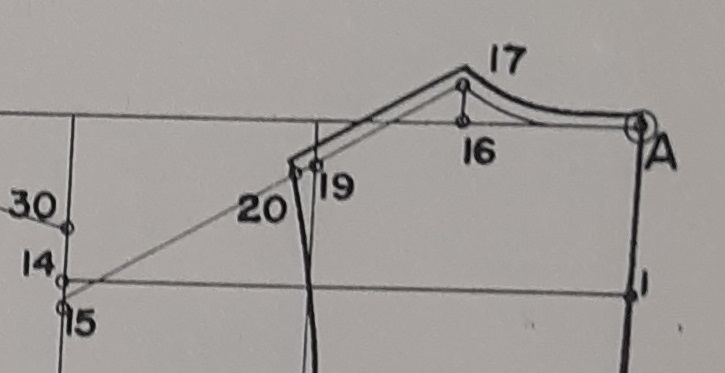 Also I played around with the dialog, and what we really need is 3 options for the SA… None, Built In (I may change this to "Included", and Added. And to be less confusing, make the Hide Seam Line… Show Seam Line where choosing none disables Show Seam Line and checks Show Cut Line as there is no seam allowance - so it's just a cut line which has to be shown. With the other two SA options at least one of the show options has to be checked - otherwise nothing will show.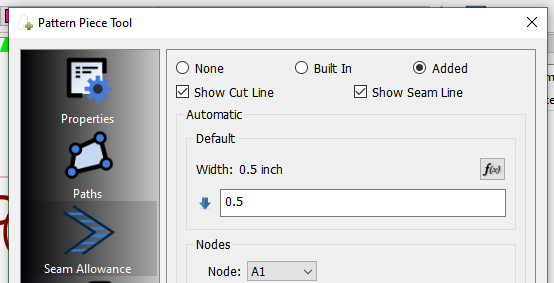 That's all for now.