Has anybody drafted the Gareth Kershaw Men's blocks that would be willing to share?
Are you willing to work with others in this thread to develop these blocks? Please say yes to start a great community effort!
At less than $40, Gareth Kershaw's book is one of the least expensive patternmaking books available. It appears to be very well organized. This would be a perfect way for us to discuss how to make blocks and what to do with them to create finished designs. This community is all about expertise exchange.
https://www.amazon.com/Pattern-Cutting-Menswear-Gareth-Kershaw/dp/1780673191
I think that listing is not quite right - I have the 2013 edition, which has the cover pictured, but it's titled "Patternmaking…" rather than "Pattern Cutting." Since it appears nobody has drafted any of this already, I'll probably begin work on one or more of them shortly. I'm surprised so few files have been shared on seamly.cloud - I'll aim to help fix that.
I feel like I'm flying a bit blind with Seamly - I don't have any idea how I'll proceed once I'm finished with the blocks. It's not yet an intuitive way to create. The main reason I want to begin using the software is to enable me to grade my (already existing on paper) patterns for "standard" sizes. This is my motivation, so my work will be focused on achieving that particular goal.
I have drafted the basic body block from this book and used the curves method I found on this forum. I thought I would upload it here as I thought it would be useful to anyone else who was searching for it

I recommend the book as it contains some great patterns for menswear and instructions on how to cut patterns for lots of different styles.
In the book it says to trace off the front from the back, I have left it as one block as this is going to be my starting point for the patterns. Although I am yet to familiarise myself with the workflow of using seamly2d.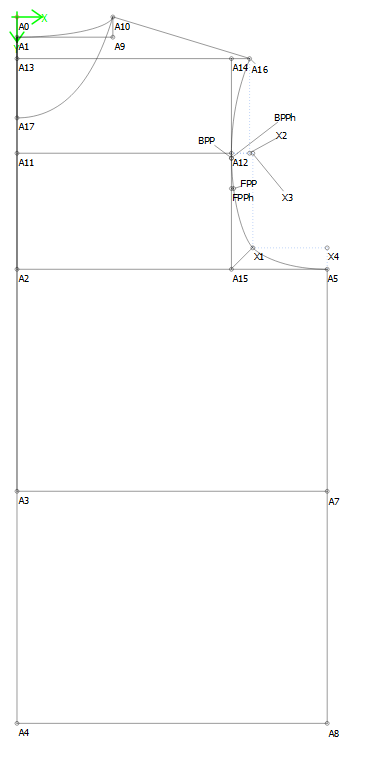 Kershaw Basic Body Block.val (7.5 KB)
Kershaw Measurements.vit (1.9 KB) (this includes all recommended measurements from the book, not just for this block)
Could you also post the .vit, or even just which measurements this block needs to be used?
Also, there's nothing wrong with putting ease in the .vit, however, since different patterns/materials require different ease for the same person, some people prefer to enter it in the pattern "Increments" ("Measurements" menu, "Variables table" (ctrl-t), The "Increments" tab should be the default.) This will also make the ease be a #measurement instead of an @measurement.

I have edited the post to include the measurement file and changed the ease to an increment, thank you for the advice! The measurements file is the list of measurements from the book needed for all the blocks, not just the body block as I intend to draft more of the blocks at some point.

Hi @Christophermakes! Gareth Kershaw's book is super. His designs are up-to-date, plus he includes facings and finishing pieces that other patternmakers sometimes leave out.
Other books about menswear patternmaking:
Other books that have sections on menswear patterns:
Hello, I did use the book and draw the Block from my own measurements. My problem was, the the neckline drafted is just too big. My neck cirumference is 43 cm and on my block it was 49, so it is far too big.
Does anybody had this problem too.
Thanks for some help in advance
Hi & welcome, @Lannajoe
I must say that I haven't really gotten around to Kershaw yet. I only did a basic 'Master Plan' and my neck works out at about 17 inches, while the neck_circ is 15.5, which seems like a comfortable fit around the neck of 1.5" (4cm).
Check that you have the formulas correct and really nice curves, because this could make quite a difference and bare in mind that this is a garment that includes ease - However, I'm sure you can adjust the neck according to the design that you desire.
Dear Grace , thank you for your kind answer. I will go over it and check it again. I already tried to change the curves before. But I had the feeling that the formulas for the neck width and neck depth are somehow wrong. I compared other methods and when I use there formulas the neck width and neck depth will be smaller. I could not figure out what is possibly wrong so my conclusion was that the formulas must be not working for me. But maybe I am wrong. But thank you again for the answer. I will go over it again.
Here are my files, if you'd like to compare them, I have never actually made up the pattern, so I can't guarantee any good results

Kershaw Mens Upper Body Master Plan.val (13.9 KB)
Kershaw Mens Measurements - Size 38.vit (2.1 KB)
And you're very welcome

Thank you so much for your help. That is very kind of you. i certainly will try to compare it.