Good afternoon!
I am working on a biker jacket pattern and am experiencing several problems.
The first one, regarding seam allowances. I usually mirror draw the bottom of the garments and when I take the pattern to the "pieces" tab, I remove this seam allowance in the bottom part that is applied simultaneously to all sides of the pattern piece.
Please check this image as an example:
This works for me on the less complicated straight hems, however now I am creating a fake tailored sleeve (taken from the standard sleeve pattern, it has a cut in the back part and a small dart that goes up to the elbow level).
For these sleeve pieces I need the seam allowance to be mirrored, but I don't get the desired result neither by doing it the usual way I work, nor with the seam allowance panel of the "pieces" tab. It's as if the corner is too sharp and I cut it off by default.
Here are some additional examples: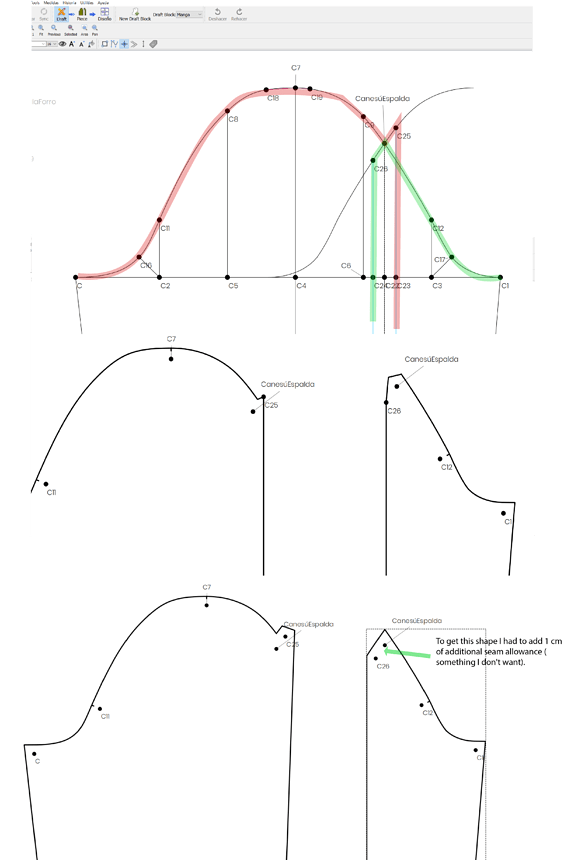 How could I solve it? If the pattern looks like this there is no fabric in the margin. What would you recommend?
And on the other hand, I have downloaded the latest version of Seamly to see if I could solve the previous problem and put notches on the seam line (I have not succeeded, but I have solved it by inserting an internal path).
The thing is that now it doesn't let me export the pieces

it says in the dialog box "Exception: "name of the piece" Doesnt have shape".
Here I left a link with the measurement file and my pattern: https://drive.google.com/drive/folders/19hy2soyryoLoqAfiCbspolEYAvOHnX9F?usp=sharing
Thanks for your help, it is much appreciated