Hi I am trying to install seamly on Ubuntu Studio 19.04. Is that possible at all?
Hi @r66rainer, I don't know anything about Ubuntu OS's, so I'm hoping @kmf will come online who will be better able to advise you. In the meantime, did you download this file from the website?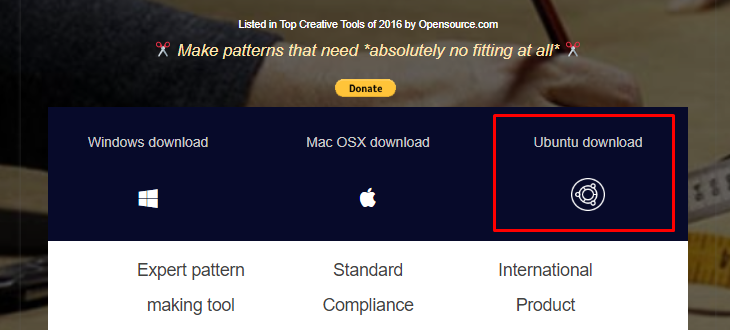 And here's a few topics on how to install on Ubuntu:
If you would like to browse through more, just click on the magnifying glass icon in the top right corner of this page and do a search. There are quite a few

Good luck

hi, @r66rainer. There were no builds for any ubuntu version later than the long term supported 18.04 (Bionic). I believe that I just requested that the software be built for 19.04 (Disco) and I will not know until later today whether it was successful.
I do not currently have a system where I can test that the build on 19.04 installs and executes correctly. It will take me a few days to set that up.
So… please respond and let me know how comfortable you are being the first person to try a version. I am willing to answer questions and help, but I cannot tell you that there may not be issues. Do you want to try to be a risk taker and install it with NO testing, or would you prefer to wait until next week when I can assure you that it will at least install and run on my system which I have yet to set up to run Ubuntu version 19.04?
@slspencer if you get any notifications that someone has requested additional builds on your repository for the very latest Ubuntu versions, that was me.
@Grace I can explain in more detail what I just did, but I assume that you really do not want to know
Hi, thanks for responding so quickly … I dot mind testing things. I'll have time on Tuesday and would like to try a mueller und Sohn pattern. Cheers Rainer
@r66rainer, what is your time zone? I am in USA, central time zone, currently daylight savings time, UTC -5. I hope to have at least two options for you to try by Tuesday, but to keep your expectations in line I would like to know what time you plan to try this. If I am able, I will try to be available for instant discussion
Hi, here is my situation. I am based in Germany Berlin time zone now. The idea was to build a Linux machine with a working environment to create some basic garments jjust using open source software. I'll be here until Wednesday. From Thursday I'll be in the UK with no access to the Linux machine until November. So there is no real rush for it. I'll have time on Tuesday and Wednesday for a test though in case you need feedback. And will have more time from November. Cheers
to load the untested version of Seamly2D that SHOULD work on Ubuntu Studio 19.04, please open a console window and execute the following.
sudo add-apt-repository ppa:chilil93/kims-tst-seamly2d
sudo apt-get update
sudo apt-get install seamly2d

This should result in you having the desktop icons to click and start Seamly2D. If it does not, please (from the console window) type seamly2d and press enter. If this does not start the software, or if the software does not come up without error, please contact me and I will try to help you through it.
DISCLAIMER: If you follow the instructions in this post, you would be installing from an untested repository. I have not yet had time to create a 19.04 environment and test the software. It was verified on a Kubuntu 18.04 installation. Once testing is complete you would be able to go to the site https://seamly.net/ and follow the standard instructions.
Hi, that works without a problem so far. Thank you! I have opened a file and measurement and it runs stable which I created on OSX. Ill give it a try today to create a new pattern. So first step into creating some pieces just using open source software on linux on the way. Just need to get my head around blender a bit. And hopefully will have something useful in the next 4 month or so. Thanks a lot to make this work! I might post some stuff on instagram @codeture.
very happy that I could help, and thank you in advance for any feedback you may have. you are the first of whom I am aware using it on Ubuntu 19.04. There are not supposed to be differences among operating system versions because of Qt, but in software that is never a safe assumption
If you find bugs to report or enhancements to discuss, please post that on this forum. Please start a new topic when you do.
I have not used instagram, but I will keep an eye out on @codeture.
@slspencer - you may find this interesting as well.
I know that there are others in Germany and specifically some activity in Berlin with a lady presenting some workshops. please see these topics for more information
Thanks @r66rainer and @kmf Looks like we need to update to later versions of Qt and Ubuntu. Launchpad is not finding the libraries needed to complete the build - I'll find out how to fix this issue starting tomorrow.
I updated from Ubuntu 18.04.06 to 19.04 using the Software Updater in Ubuntu yesterday. Wanted to try out the Wacom Intuos BT M pad. I did NOT have to reinstall Seamly2D v. 0.6.0.1 Build Jan 13 2018, Qt 5.12.2 (GCC 7.20.64-bit). The OS transfer seems safe and brings some pad features.
I hoped that a small glitch in Seamly would go away. If I choose options for a detail, and try to move that option window, the whole Seamly window will be activated, resized and moved. The option window cannot be moved independently. I will survive with that. Just a note that might be useful in a re-build.

trying
sudo add-apt-repository ppa:susan-spencer/seamly2d
gives me:
E: The repository 'http://ppa.launchpad.net/susan-spencer/seamly2d/ubuntu disco Release' does not have a Release file.
N: Updating from such a repository can't be done securely, and is therefore disabled by default.
Can you add the Release file?
Thank you

The fact that there is no release file for ubuntu 19.04 (DISCO) in the susan-spencer ppa for ubuntu 19.04 is a known issue. The required work is not completed yet.
There are support libraries required for every version of Seamly running in the Ubuntu environment that are outside the control of the Seamly team. The latest version available there is for Ubuntu 18.04 (BIONIC) which is the latest long term supported version of Ubuntu.
If you want to risk using a test version that is not fully supported, you may use the following commands
Please be aware that the latest fully supported version of Seamly2D for Ubuntu is the one that runson 18.04 (BIONIC) and there is no guaranty of support for the version from the test repository.
At the moment I have compiled and installed it from
Ok, I'm working as a software developer, so this is not so difficult for me

please pm me if you wish to discuss the build pipeline and/or if you wish to work on any of the issues documented on github. @slspencer is the person to talk to if you want to become an "official" member of the development team. we would love to have you if you are interested!